ND YAG Laser Machine

What is ND YAG Laser Equipment?
EXQ-Laser is a newly developed Nd: YAG laser treatment system based on the laser Q modulation technology. It is designed with a 1064/532 dual-wavelength optical laser and a 5ns pulse width. This skin treatment laser has found excellent performance in clinical treatment. To ensure the safety of the system, we have equipped it with a real-time energy monitoring system, an energy self-regulating system, as well a water filtration system. The user-friendly operation interface has made it rather easy to operate. With excellent performance, high stability, and a high safety degree, EXQ Laser has won the certificate of unique design. Sincoheren provides professional ODM services to many distributors and medical aesthetic institutions, Get a quote now.
Principle of ND YAG Laser Machine
The working principle of the Nd Yg laser machine is selective absorption. Since the peak power of Nd Yag laser with nanosecond pulse width is very large, and the relaxation time for the melanin in melanin cells and keratinocytes is short, those small particles (tattoo, melanin) which have preferably absorbed the laser energy will burst instantaneously without having an impact on the surrounding normal tissues. The blasted particles will enter the circulatory system and be excreted out of the body. Based on the thermal effect of laser, the treatment for vascular lesion of this Nd Yag laser is to target the abnormally dilated blood vessels with laser, and let the hemoglobin absorb the laser energy until it is dead and fall out.
Since Q1064nm laser can be preferably absorbed by melanin and shows strong penetrating ability it is ideal to treat deep skin lesions, like blue and black tattoos, nevus of Ota, etc. By contrast, the Q532nm laser is mainly used for treating superficial pigmentation disorders, such as freckles, cafe-au-lait spots, and seborrheic keratosis. In addition, a Q532nm laser can be used to remove red tattoos and lip lines.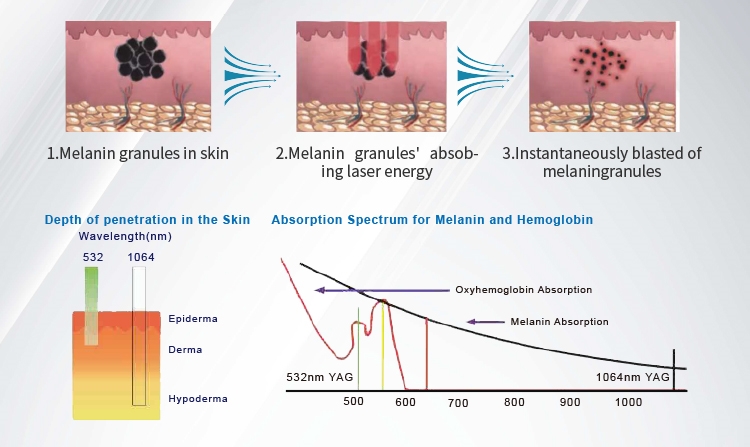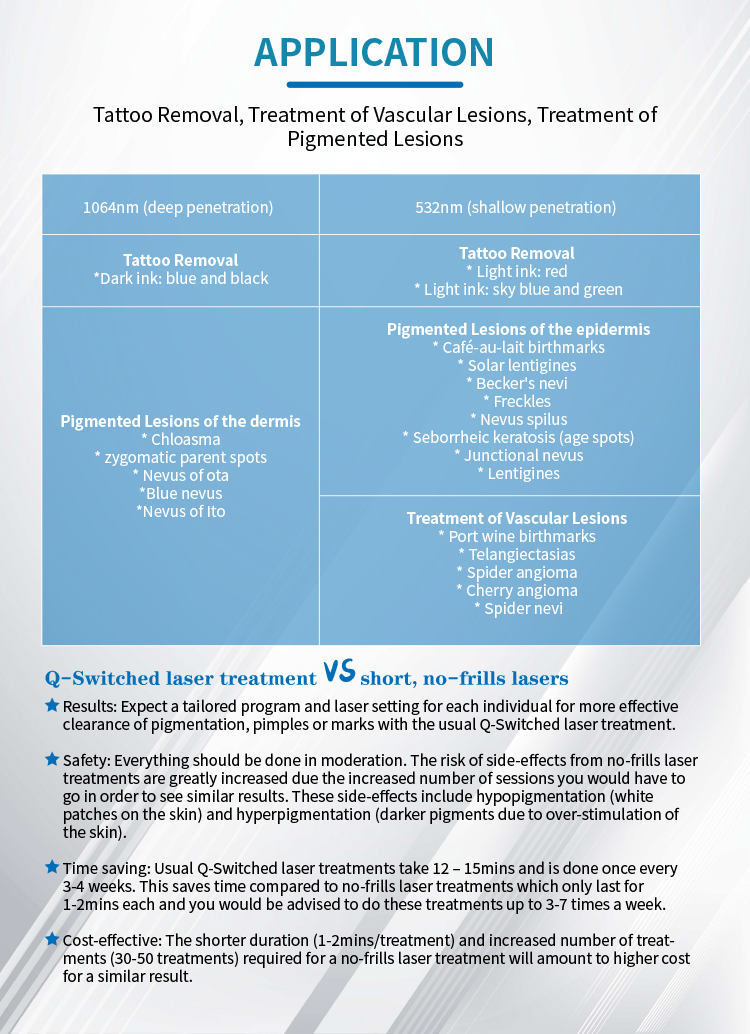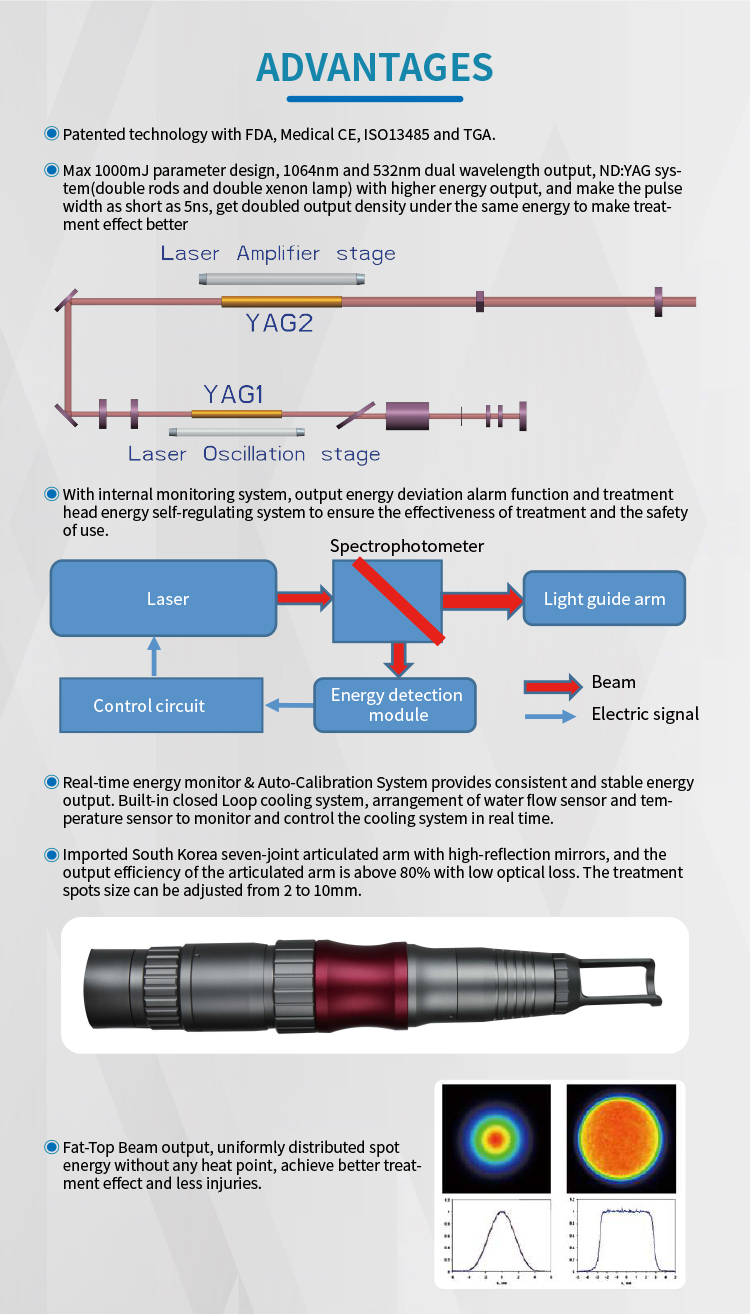 Advantages of ND YAG Laser Machine
1. The addition of laser modulation technology allows the pulse width shortened to 5ns and the power output density doubled.
2. For this kind of YAG laser skin rejuvenation treatment equipment, we have employed the double-rod double-lamp laser, the laser from Amric, and the light guide arm from Korea.
3. It is equipped with a laser energy inspection system and output energy deviation alarm device to ensure its safety.
4. Our Q-switched Nd Yag laser machine adopts the light guide arm with 7 joints and adjustable handles, whose spot diameter ranges from 2mm to 10mm. The energy density changes simultaneously as the spot size changes.
5. Fattened Gaussian beam: the spot energy is distributed uniformly, committing no harm to the surrounding skin
6. All skin types accepted.
7. Easy to be installed and maintained
8.No downtime or side effects.
9. Short-time treatment and excellent curing result.
10. The built-in closed circulation water cooling system ensures that the equipment work uninterruptedly with anesthesia, with little pain, no damage to follicles and skin, no influence on daily work, and no side effect or sequelae.
If you are interested in our products, please feel free to contact us.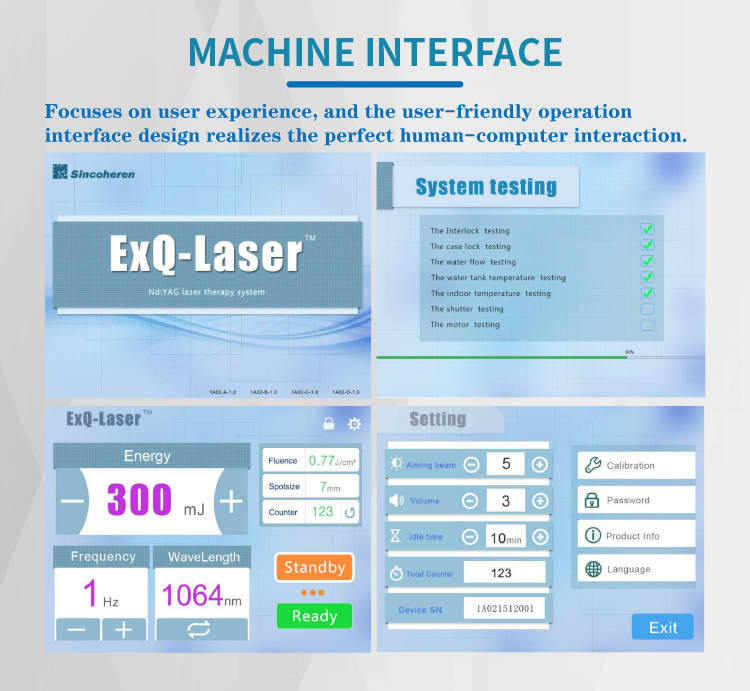 Applications of ND YAG Laser Machine
Pigmentary lesions: nevus of ota (blue or grey patch), lots nevus, freckles, senile plaques, cafe-au-lait spots, chloasma, black spots, etc.
Exogenous pigment: tattoos, eyeliner, exogenous pigmentation, etc.
Vascular lesion: hemangioma,navus flammeus, telangiectasia, rosacea, etc.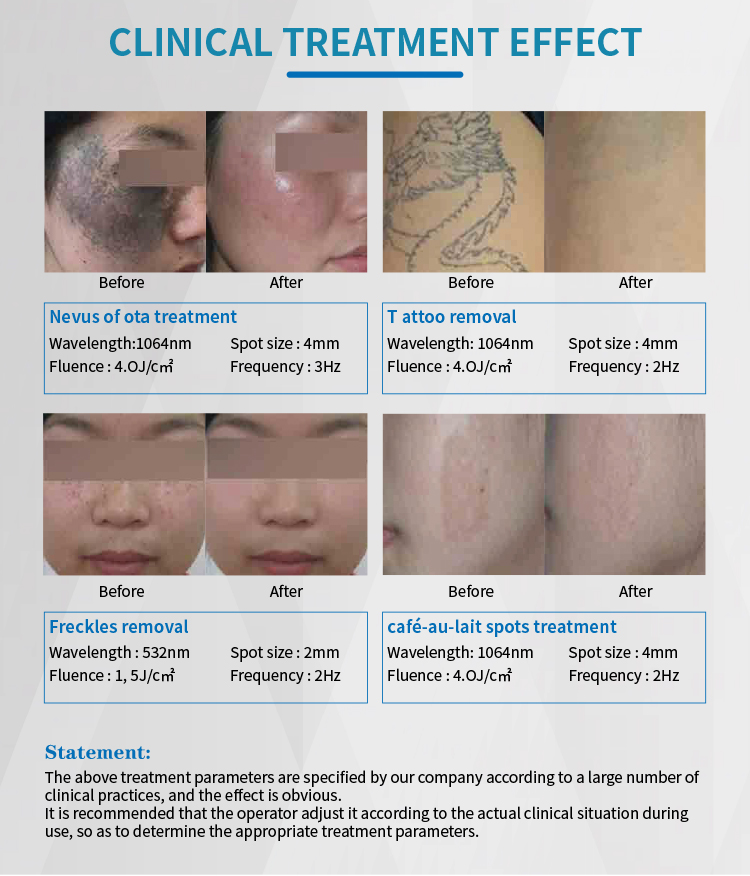 Sincoheren has its own Research & Development department, Factory, Quality Control Department, international sales departments, distributors, and after-sales department. Successively in the past 20 years, Sincoheren has developed a medical Laser skin treatment instrument (N d Y a g Laser), an intense pulsed light medical device, an R F body slimming machine, a tattoo removal machine, a laser hair removal device, fractional C O 2 laser equipment, Coolplas fat freezing machine. Kumashape machine. Our devices are various from IPL series, Laser series, and RF series to Cavitation.

Who Needs ND YAG Laser Treatment?

ND YAG laser systems are a strong tool that can help you achieve incredible aesthetic outcomes. This treatment is beneficial to patients with skin pigmentation, dark skin spots, or those who want to reduce hair growth. ND YAG Laser treatment is also beneficial for those who want to treat spider veins or other vascular lesions, those who have rosacea or want to improve their overall skin tone, and those who want firmer skin with a more even skin tone. Moreover, this treatment is for patients who require treatment for certain eye disorders, permanent hair removal, tattoo removal, treatment for certain nail disorders, and many more.


How Long Does It Take to See Results from ND YAG Laser Treatment?

Once your skin has healed following your final treatment session, the results of your ND YAG laser therapy will be visible. These outcomes may be permanent in some circumstances.

What is the Aftercare for ND YAG Laser Treatment?

An ice pack can be used to calm the treated area immediately after therapy.
Scrubbing the region and/or using abrasive skin cleansers should be avoided in the first few days after treatment.
To protect the treated area from abrasion, a bandage might be used.
To limit the risk of postinflammatory pigmentation, patients should cover the area from the sun during and after therapy.
Difference between ND YAG and IPL treatment

Nd:YAG
The Nd:YAG is the newest laser currently in use for the purpose of hair removal. Operating with a wavelength of 1064 nm, it penetrates deeper than any other laser to avoid damaging the epidermis and targets the hair follicle directly. This deeper penetration allows for safer use on darker skin types as it is not deterred by darker pigmentation.
IPL
IPL operates differently from the laser as it sends out multiple rays of light at different wavelengths at the same time. This allows for a faster coverage of the area treated, but a less targeted approach than a laser. While the Nd:YAG targets the area beneath the epidermis, IPL targets above and below in a fragmented approach.
With high-level talents, scientific management, an excellent team, and considerate service, our company's series of ND YAG Laser Machines For Sale are favored by domestic and foreign customers. Hope to have a pleasant cooperation with you. For more details, please feel free to contact Sincoheren.