Diode Laser Hair Removal Machine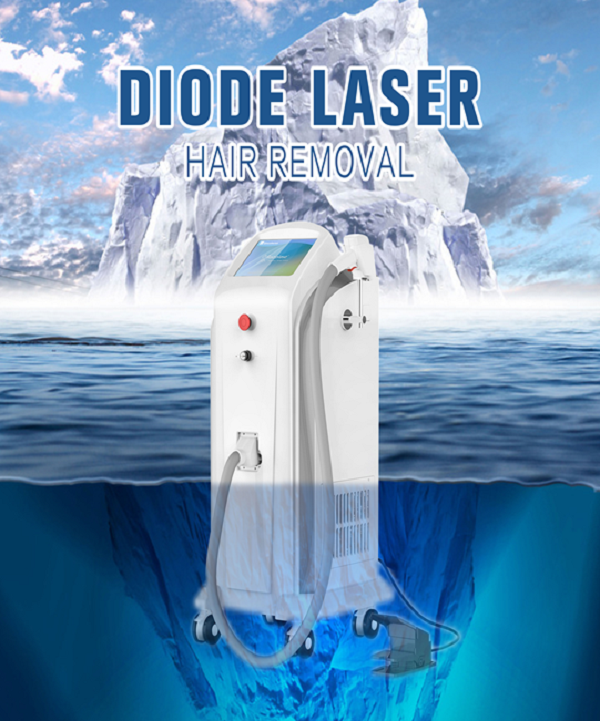 Sdl-b Diode Laser Hair Removal Systerm
Equipped with 808nm /755nm/ /1064nm /three-in-one comprehensive hair removal system with multiple wavelengths, suitable for people with various skins and various hair colors; it also has a dual-system operation interface of the medical version and the beauty version, which can realize personalized customization.
Intelligent recommend parameters, reduce the threshold of clinical operation of hair removal.
At the same time, during the treatment process, the unique sapphire contact refrigeration technology of the system can effectively cool andprotect the skin to achieve painless, fast and permanent hair removal.
Principle Of Laser Hair Removal
•The laser generated by the semiconductor hair removal system can penetrate the epidermis to the hair follicle. According to the selectivephotothermal principle, the energy of the laser is preferentially absorbed by the melanin in the hair, effectively destroying the hair folicle anohair shaft, and then losing the hair regeneration ability;
•Since the photothermal effect is confined to the hair follicles, it prevents the heat energy from damaging the surrounding tissues and does notform scars.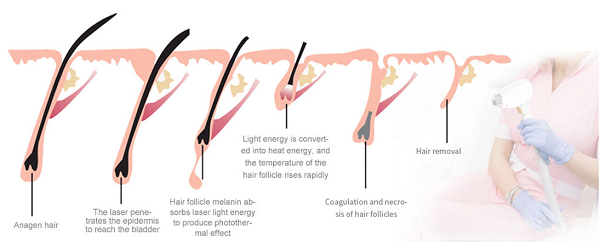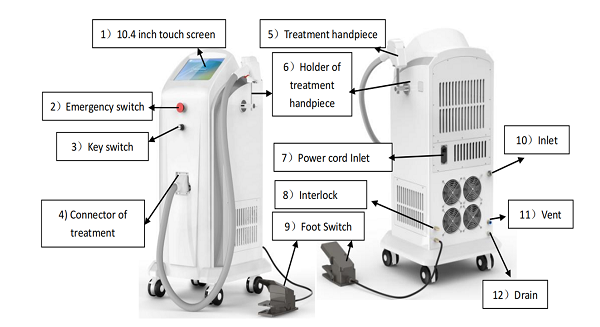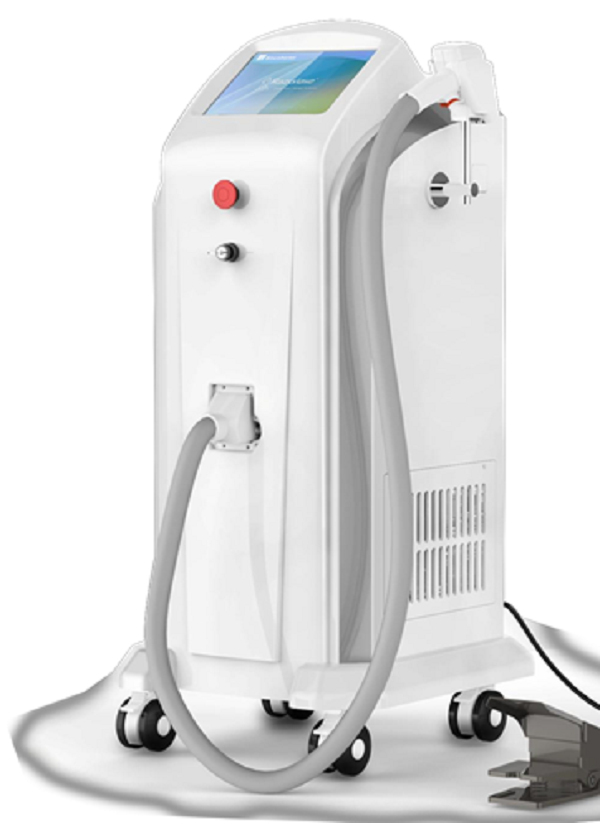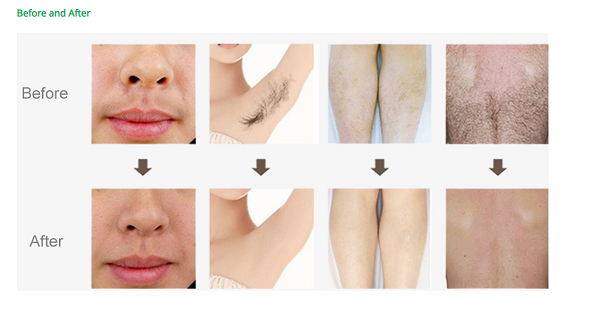 How it works?
Basing on the selective light absorption theory, we let the diode laser generated by laser hair removal machine pass through the skin surface and penetrate the hair follicles by adjusting the wavelength, energy, and the pulse width to realize the hair removal purpose. In the hair follicle and hair shaft, there are plentiful melanin spreading between the follicle matrix and moving to the hair shaft structure. Once the melanin has absorbed the energy of laser, it will show a sharp rise in temperature and lead to destroy upon the surrounding follicle tissue. In this way, the unwanted hair will be removed completely.
With a medical grade machine and technology, it works by firing Intense Pulsed Light to the skin layers and it is absorbed by follicles of your hair.Follicles of the hair grows weaker and hair starts to shed.
However, IPL works best with follicles in the active growth stage, while dormant follicles slip by. So don't worry if you still see some hair growth after your first treatment as each treatment results in the permanent removal of hair.
Depending on the thickness and density of hair, several sessions (up to 10) are needed. Hair density and thickness reduces drastically after each session and hair follicle will no longer produces hair.
Advantages:
1. Hair removal completely and permanently. Pain free, safe fast and effective.
2. Applicable to any hair color
3. Applicable to all skin types
4. Improved latest types of diode laser machine
5. 10.4 inch high sensitive toutch screen.
6. 10 German bars, better effect & longer lifetime
7. Excellent sapphire contact cooling.
8.It helps with folliculitis. This is a skin condition in which the follicles become inflamed. It causes small bumps, which look like pimples, to form. They can be red and itchy, and they can even spread into crusty sores. Permanent facial hair removal can help men deal with this bothersome problem.
9.It's great for shaping. Some men want a neat beard. They can choose to have permanent hair removal on just the neck or if their beards come up too high on their cheeks.
10.It saves masses of time. If you're sick of daily shaving, and nicks, this is the solution for which you've been searching!
11.Permanent facial hair removal is ideal for transgender people. This technique works for preoperative and postoperative clients who wish to achieve a smooth, hair-free appearance.
Beijing Sincoheren S & T Development co., Ltd, established in 1999, is a professional hi-tech manufacturers of medical and aesthetic equipments. Sincoheren have its own Research & Development department, Factory, Quality Control Department,international sales departments,distributors and after sales department.
Related products
hair removal cream permanent for men
Razorlase SDL-Kplus 1000W 808 nm Diode Laser Hair Removal Machine
laser hair removal diode machine
laser hair removal diode machine
hifu vmax hifu machine | Monaliza
Related news
The Principle of Laser Epilator and The Use of People
7 Factors That Affect the Effect of Laser Hair Removal
Technology Parameters:
| | |
| --- | --- |
| Laser source | Diode stack |
| Diode stack | 755nm 808nm 1064nm |
| Pulse width | 5ms-400ms |
| Frequency | 1Hz-10Hz |
| Laser aperturesize | 14mm×12mm |
| Spot size | 12mm×10mm |
| Fluence | 0-120J/cm2 |
| Cooling methods | Air cooling, water cooling and semi-conductor cooling |
| Input power | 1400VA |
| Power source | 110-240VAC, 50-60Hz |