ND YAG hair removal alexandrite laser device
ND YAG hair removal alexandrite laser 755nm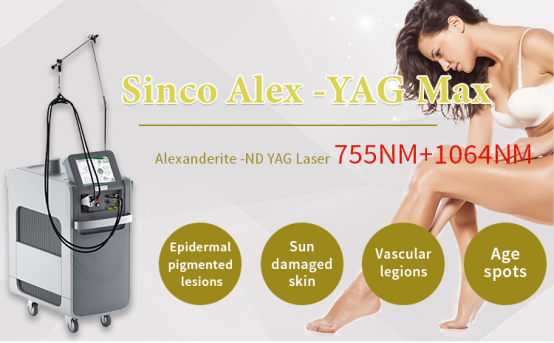 What is Sinco Alex-Yag Max?
The Sinco Alex-Yag Max is a single consolidated system that
delivers a range of treatments - all skin type hair removal,
as well as pigmented and vascular lesions. It is a dual wavelength
laser platform that combines the fastest and most powerful 755 nm
Alexandrite laser with the 1064 nm Nd:YAG laser for high performance treatment
capabilities in terms of speed, efficacy, ease-of-use, outstanding performance,
safety and patient satisfaction.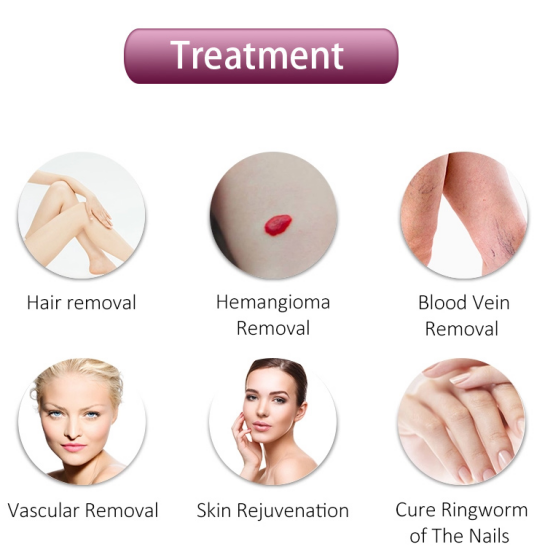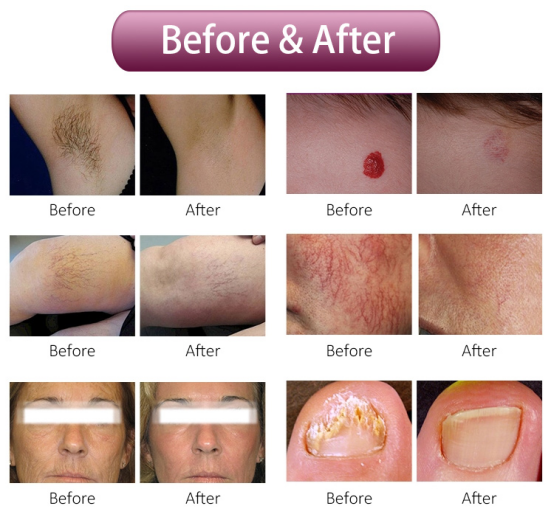 Screen

12 inches Digital Real Color LCD

Wavelengths

Nd YAG and Alexandrite

Cooling system

Water cooling & Air cooling

Energy

100J @ 1064nm, 60J@755nm

Pulse frequency

0.25, 0.5, 1Hz,2Hz
1064nm Up to 10 Hz; 755 Up to 10 Hz

Pulse Duration

10-100 ms

Lamp

2 lamps

Rod

2 rods

Beam Delivery

Lens-coupled optical fiber with handpiece

Pulse Control

Finger switch, foot switch

Size

40(W)x80(L)x115(H) CM

Net weight

95KG

Gross weight

135 kg (260 lbs)

In charge voltage

200-240 VAC, 50/60 Hz, 30A, 4600 VA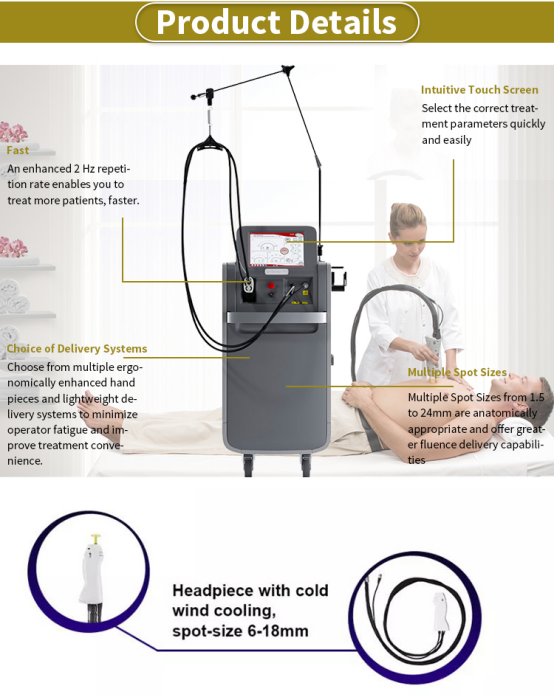 How Sinco Alex-Yag Max Works?
The Sinco Alex-Yag Max's laser beam passes through the deeper layer of the skin and
is absorbed in the hair follicle. This in turn produces adequate amount of heat energy and
destroys the hair follicle, resulting in permanent hair removal. For skin rejuvenation treatments,
the Sinco Alex-Yag Max's laser energy stimulates the production of collagen, resulting in skin cell renewal.
This process replaces old skin cells with new, healthy skin cells, resulting in healthier, radiant, and younger-looking skin.
Benefits of Sinco Alex-Yag Max:
1.VIRTUALLY PAINLESS/EPIDERMAL PROTECTION:
The Dynamic Cooling Device (DCD) handpiece delivers bursts of cryogen gas before and after each laser pulse, to maintain a consistent and comfortable skin temperature during treatment.
2. REVITALIZING SKIN AFFECT:
In the process of laser hair removal it is come around the skin rejuvenation and removal of pigmented lessions.
3.PERFECT FOR ANY AREA OF THE BODY:
Multiple Spot Sizes from 1.5 to 24mm are anatomically appropriate and offer greater fluence delivery capabilities.
4.NO DOWN TIME:
Patients may return to their normal activities immediately after treatments
5.SAPPHIRE PROTECTIVE WINDOWS:
Up to 5 times more durable than usual protective glass
6.ENHANCED INTUITIVE TOUCH SCREEN:
Redesigned to help you more easily select and save treatment parameters.
7.SPEED:
A 20/22/24 mm Large Spot Delivery System makes the GentleMax Pro the fastest dual
wavelength hair removal laser in the market. An enhanced 2Hz repetition rate enables you to treat
more patients faster.
8.THE GOLD STANDARD OF HAIR REMOVAL:
The best hair removal laser among all the represented in the market.
9.VARIABLE PULSE DURATION:
Microseconds to milisecond pulse durations provides superior results and safety when treating
pigmented and vascular lesions on various skin types.
Indications:
Stable, long-term, or permanent hair reduction Treatment of vascular lesions Treatment of wrinkles.
Treatment of benign pigmented lesions Temporary increase of clear nail in patients with onychomycosis.
(e.g. dermatophytes, Trichophyton rubrum and T. mentagrophytes, and/or yeast Candida Albicans, etc.)
What Happens during a Sinco Alex-Yag Max Treatment?
Sinco Alex-Yag Max will first emit a pulse of cooling spray in the treatment area to protect it against
burn and improve comfort. A pulse of laser light will then be emitted in order to target hair follicles or
simulate skin cell renewal. A tolerable stinging sensation is normal and is a desired clinical outcome as
the therapeutic heat is being absorbed by the skin tissue. The treatment can take 30 minutes to 1 hour,
depending on the existing skin condition, treated area, and desired cosmetic goals.
Is Sinco Alex-Yag Max Safe?
The treatment is safe and effective for all skin types. This is because Sinco Alex-Yag Max's patented Dynamic Cooling Device (DCD) technology
allows it to deliver consistent bursts of protective cryogen (a substance that produces very low temperature) while preventing thermal damage
in the treatment area. In addition, its Air Cooling Compatible (ACC) technology improves patient comfort by directing cold air into the area.