Cryolipolysis
2021 New Arrival Products 5 Handles Cryolipolisis Body Slimming Machine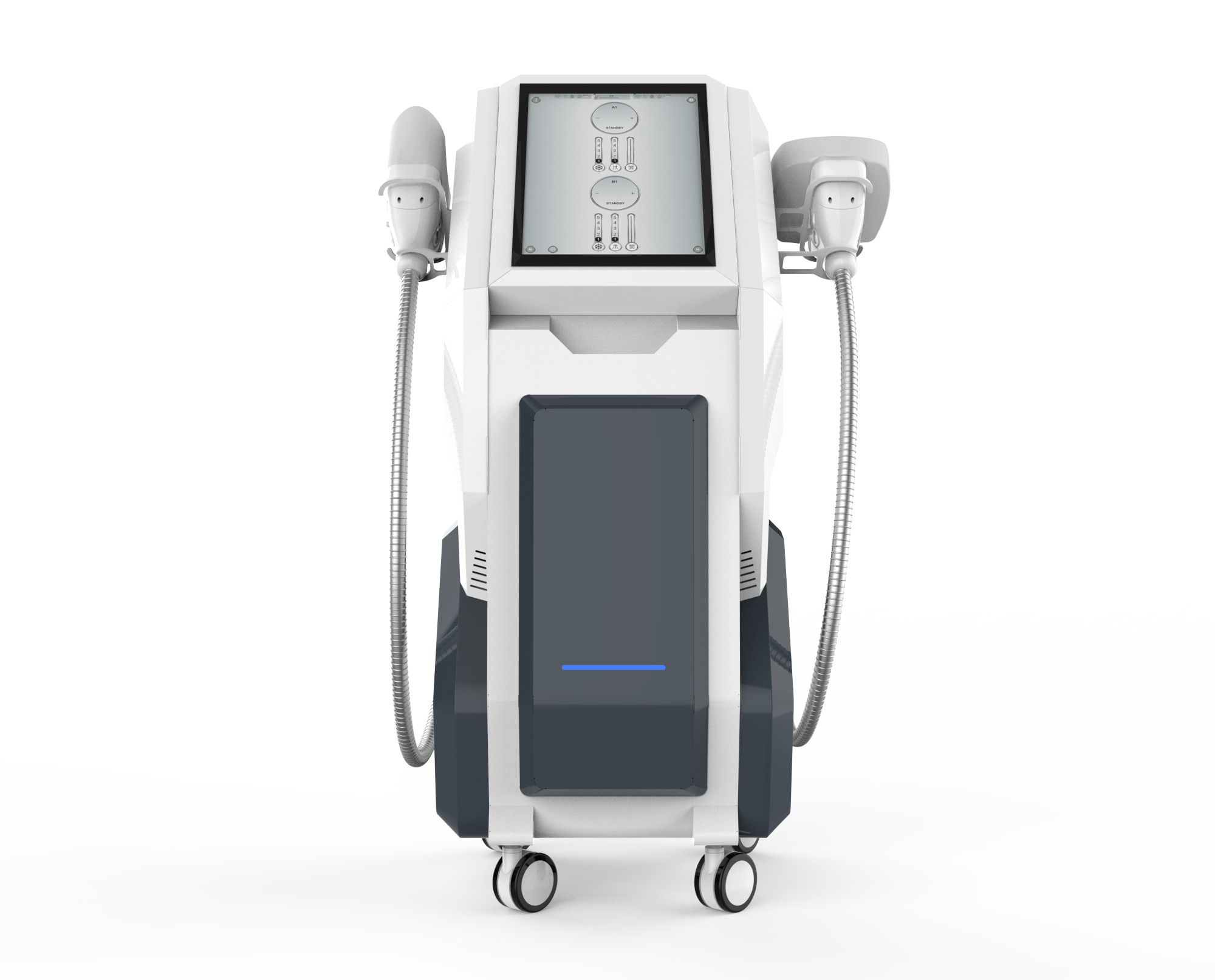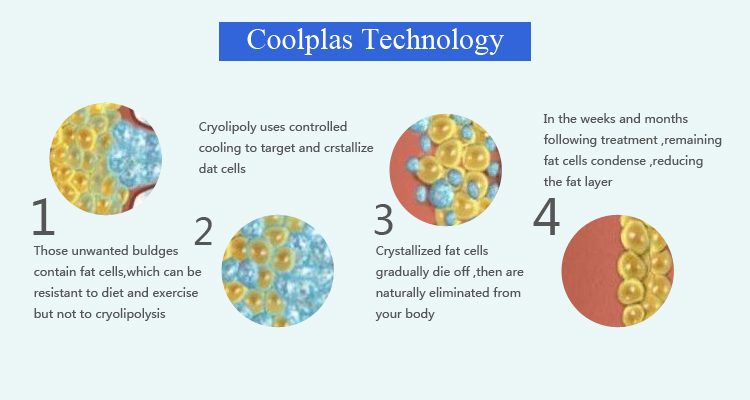 Product description
Welcome to choose our latest product, the diamond ice sculpture instrument.It adopts advanced 360°
surround controllable cooling + vacuum negative pressure technology. It's an instrument with
selective and non-invasive freezing methods to reduce local fat.Originated from the research
and invention of Harvard University in the United States, the technology has passed FDA
(US Food and Drug Administration), South Korea KFDA and CE (European Safety Certification Mark)
certification, and has been widely used in clinical applications in the United States, Britain,
Canada and other countries.As fat cells are sensitive to low temperature, the triglycerides
in fat will change from liquid to solid at 5℃, crystallize and age, and then induce fat cell apoptosis,
but do not damage other subcutaneous cells (such as epidermal cells, black cells).
Cells, dermal tissue and nerve fibers).Cold diamond ice sculpture is a safe and non-invasive
treatment method that does not affect normal work, does not require surgery, does not require anesthesia,
does not require medication, and has no side effects.It's equipped with six replaceable silicone
treatment heads. The treatment heads of different shapes and sizes are flexible and ergonomic,
so as to adapt to the whole body contour treatment.The treatment of body parts include double chin,
arms, bra wrinkles, abdomen and waist, buttocks (banana under buttocks), thighs, etc.And is
equipped with two handles for independent control or synchronous work.When the treatment
head of the Cryolipolysis instrument is placed on the skin surface of the selected area of the human body,
the vacuum negative pressure technology built in the treatment head will capture the subcutaneous
tissue of the selected area, and then conduct selective cooling,so that the selected subcutaneous adipose
tissue will be cooled to about 5 ℃ to - 10 ℃,so that the adipocytes will crystallize and age, and the
crystallized adipocytes will gradually apoptosis within 2-6 weeks,Then through the autologous
lymphatic system and liver metabolism, 20-27% of the stubborn fat can be eliminated at one time,
so as to achieve the weight loss shaping effect without surgery, no bleeding, no recovery period to
eliminate fat cells without damaging the surrounding tissues.
Working mechanism
The ideal temperature - 9 ℃ which can induce adipocyte apoptosis is cooling energy to achieve
non-invasive and powerful lipid-lowering.Different from adipocyte necrosis, adipocyte apoptosis
is a natural form of cell death. It is to maintain the stability of the internal environment.
Cells die in an autonomous and orderly manner, thereby effectively reducing fat cells without
causing damage to surrounding tissues.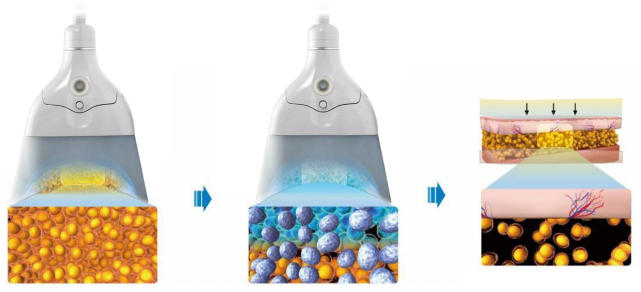 The effect of vacuum suction (compared with non-negative
pressure suction cooling plate)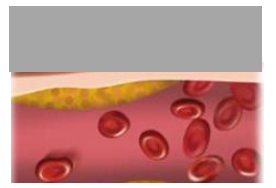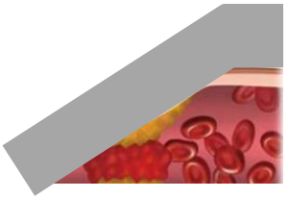 Cooling plate without negative pressure Cooling after adsorption
adsorption

The clinical effect is better if blood circulation is blocked and fat freezing is accelerated.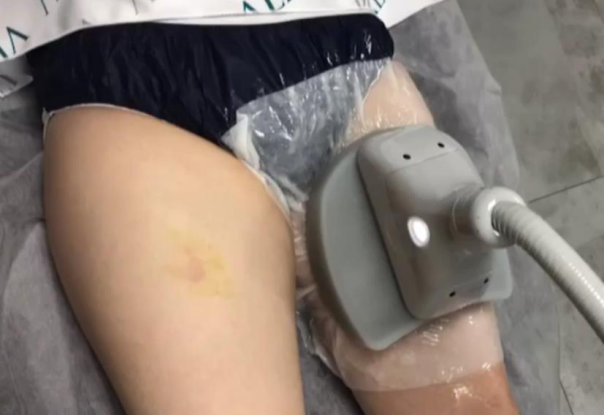 Cartridge double chin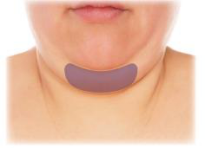 | | | | | |
| --- | --- | --- | --- | --- |
| | time | negative pressure | cooling | course of treatment |
| Cartridge 1 | 40 minute | 2 | 5 | Once |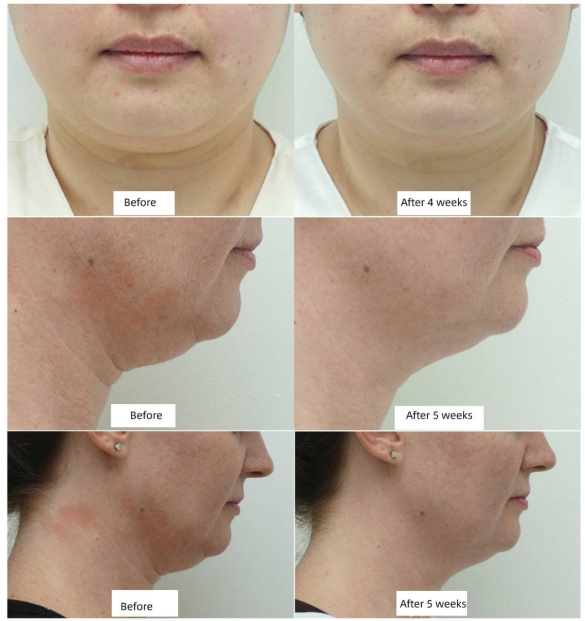 Product advantages and features
1、15-inch touch screen; dual-channel frozen grease; dual treatment heads
can work independently.
2、The temperature can be controlled; the five-stage adsorption intensity
can be adjusted;
the treatment time can be set.
3、Quick and easy replacement of the treatment head, one "press" and one "install";
the treatment head is made of soft medical silica gel (medical rubber material,
soft and comfortableto the touch, safe, colorless and odorless), and the whole treatment process is comfortable and convenient.
4、The 360-degree surround cooling technology is different from the
traditional double-sided cooling method,
which can increase the efficiency by 18.1%. The cooling liquid is injected into
the entire treatment probe to more effectively remove fat cells.
5、According to the connection of each cooling treatment head,
the system will automatically identify
the recommended parameters of each treatment head, so as to
efficiently realize the effect of body carving and reduce excess fat cells.

Common problems
Q1:Will the diamond ice sculpture rebound after finishing treatment?
Weight loss is actually a chemical reaction, which is reversible, and it may
come back after two meals.But the diamond ice sculpture reduces the number of cells.
The number of our fat cells is basically constant, so if there are no special circumstances,
it will basically not change.Reducing the number of fat cells, in theory,
It will not grow back. But is there any special situation? Yes! For example,
when a beauty seeker comes to make a diamond ice sculpture, it's 100 catties.
After a period of time, when he eats 120 catties he may gain weight.
But where he has made a diamond ice sculpture to dissolve fat, the reduced fat cells
will not grow back. It's because the fat cells become larger, not more.
Q2 How long will be seen the effect after finishing it?
Each part of the diamond ice sculpture need to take 60 minutes for
Small heads and 75 minutes for large heads.Generally, 1 to 3 treatments are required.
It works once,and the effect can be seen usually within 2 to 4 months after treatment.
If you want to lose weight, you can discuss and evaluate with your doctor
for a second course of treatment after 3 months. Depending on the degree of
obesity and stubbornness, it's generally effective to do it three times at most.
Q3 It's cold and freezing, will that frostbite the skin? Will it cause cold womb
The diamond ice sculpture has a built-in sensor for freezing detection
safety measures to accurately monitor the temperature and protect the
tissue from damage.It will not be cold womb,The freezing detection
treatment is aimed at the superficial subcutaneous fat. The adipose tissue
is sucked into the cooling grip through suction, and the temperature of the
treated tissue is reduced from the body temperature to a stable 4 degrees
Celsius to make it crystallized, instead of minus ten degrees in the grip. ,
The cooling range is only the tissue that is sucked into the grip and will not
affect other surrounding tissues. The uterus is located in the deep layer of the
pelvic cavity, with visceral fat and muscles on it, and it will not be affected.
Q4 Is there any side effects? Does the process hurt?Does it hurt during process therapy?
Generally, there will be some discomfort at the beginning of the treatment,
such as a feeling of involvement, coldness, and pain (the degree varies from person to person),
but in general, this feeling will soon subside with the numbness of the treatment site.
After treatment, typical side effects include transient flushing, swelling,
whitening, bruising, lumps, tingling, tingling, tenderness, spasm, pain,
pruritus or skin sensitivity. Rare side effects include delayed pain.
But these effects are temporary and usually dissipate in a few days or weeks.
In rare cases, other side effects may occur.
Q5 How long can do "waist belly" Diamond ice sculpture after giving birth to a baby?
If there is an incision in the caesarean section, it's recommended to do it after a year;
If it's a normal delivery, it can be done in about 3 months, and there are also some
stars do it within 28 days You can communicate with your doctor for details.
Q6 Who is not suitable for diamond ice sculpture?
Muscular figure
Severely sagging skin
Visceral fat obesity
If the treatment site has undergone surgery like appendicitis, the treatment
should be considered after one year
There are three contraindications, cryoglobulinemia, cold agglutinin
disease and paroxysmal cold hemoglobinuria. It is also not recommended
for people who have had a hernia
Q7 How long will the effect be seen after treatment?
A:Because everyone's metabolic rate is different, after about three weeks,
the thickness of the fat layer at the treatment site begins to decrease.
After 1-3 months, the fat layer at the treatment site becomes thinner, and the relaxation curve will be better.